Survival Jobs That Don't Suck
Training
Agents
Unions
Photographers
Cool Places
There are a couple of things you should consider when starting off as a professional actor. While you may find examples of actors breaking into the industry quickly, most have spent years preparing and auditioning to get where they are. At this point, a degree from a four year acting school is common and a growing number of actors are completing MFA programs. It's important to understand that building a career as an actor is a long-term commitment.
Be sure you're getting into this profession because you love it.
It can take a long time to get your first major break. I don't want anyone to be the actor who makes it all the way to New York only to jump ship shortly after because of burn out. College acting programs place little emphasis on how to survive in NYC over a long period of time and not burn out. The biggest burn out factor that you have control over is your survival job. I posted an article on my blog about how computer programming is a great survival job for actors (see "An Awesome Actor Survival Job That Nobody's Talking About"). Programming is not for everyone, but I'd suggest reading over all of the reasons that I think it's an ideal job for an actor.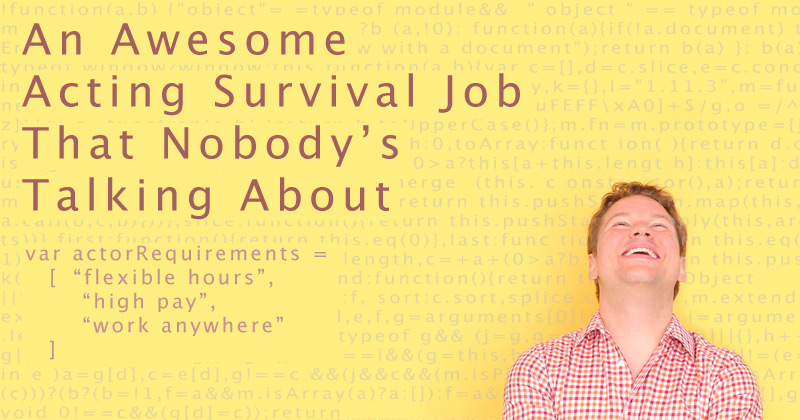 It's not a question of if you should get training, it's a question of where. Your choice of school will depend on how much time and money you can commit, and what type of career you want to pursue (theater, film, musical theater). Many four year colleges offer BFA degrees in acting and/or musical theater. The problem with large private school programs is that they're expensive. Some schools are hovering around $80,000 per year. You don't want to start your career buried in over $300,000 of debt.
Don't fret if the expensive schools are out of reach. There are many public colleges with decent acting programs and lower tuition (SUNY Purchase comes to mind if you're in New York). Additionally, there are many independent studios that offer high quality training for a fraction of the price. One of my favorites is The William Esper Studio.
When are you ready for an agent? Actors usually start working with agents after graduating from a college acting program or after they have gained some momentum on their own (booking paying jobs). Most agents are based out of New York and Los Angeles. Agents in other areas may be useful for local print work and commercials.
There are a few different types of agents. Legit agents work on theater, film, and TV projects. Commercial agents work on TV commercials. Voice over agents work on voice over projects (think animation voices and radio commercials). Modeling agents work on print/runway world. There are also franchised agents and non-franchised agents.
A franchised agency is one that is licensed by a union (Actors' Equity & SAG-AFTRA) to represent its actors. Franchised agents are guided by strict regulations set by the unions. For example, the agent can not take more than 10% of your salary, they can not sell you services (like classes or headshots), they have to be open between certain hours. Franchised agents will occasionally work with non-union actors in hopes that they will book a union job. Non-franchised agents and managers are not regulated by the unions, so if something goes wrong, there's nobody to complain to. Ideally, you want to work with a franchised agent. If you're already a member of a union, they'll require that you work with franchised agents.
There's an online service called The Call Sheet. Next to the name of every agency, you may see the letters "A", "E", and "S". Each letter represents the union that the agent has a franchise agreement with. "A" stands for AFTRA, "E" stands for Equity, and "S" stands for SAG.
There are a few ways you can get an agent. The most effective way is by being seen by the agent in a show. This way the agent can see your work first hand and (ideally) get excited about what they see. If they like your work, they will want to send you out on auditions. Even if you do not book the first few auditions they send you out on, they will remember your work and hopefully keep trying. If an agent starts working with you without having seen your work, you might be on shaky ground if you do not book work right away. The only thing they have to go on is the feedback that they're getting from casting directors. The next best way is through a referral by a friend who's with the agency. If your friend gives a glowing recommendation, you will usually land an interview. Finally, you can submit your photo and resume though the mail. It will probably go in the trash. The volume of mail an agency receives on any given day can be overwhelming.
Beware of anyone who asks for money before you book a job, says that you have to pay them for classes, or says you need to get new photos from a specific photographer. It's reasonable for an agent to suggest that you get training or suggest you get new photos -- it may be to your advantage. Just beware of one that says you're required to take a specific class or go to a specific photographer in order to work with them.
Make sure that your agent has a way to get in touch with you during the day. At my agency, a casting director would often call at 6:30pm and ask to audition an actor the next morning. If we could not get in touch with the actor right away, they would miss the audition. If this happens with the same actor on a regular basis, the agent will quickly lose motivation to work with them. You might be surprised how many times we would get a call a week later from the actor because they had not checked their messages. Agents get frustrated because an entire process transpired before an agent calls an actor with an appointment. We see a character you would be right for, send in a submission, and wait for the call. It's frustrating for an agent to do all of this work and then have a client miss the audition over something as simple as not getting a message.
Actors Equity Association (AEA, or sometimes just called Equity) covers Broadway productions and some regional theater productions. In 2012, SAG (The Screen Actors Guild) and AFTRA (The American Federation of Television and Radio Artists) merged to form SAG/AFTRA. They cover many films, on-camera commercials, and voice over work.
Choosing to join a union can be a difficult decision. On one hand, as a member, you will have a union watching over and protecting you from producers and agents. On the other hand, once you join, you're not allowed to work on non-union projects. Why is that a problem? Often smaller non-union projects are easier to book and a great way to gain experience. If you're being offered a role on Broadway or a role in a major feature film, there's no question what you should do. Often times, the decision is not that obvious. Do you have more competition in the non-union world or the union world? For theater, if you're a member of Equity, you get scheduling priority at auditions. Being a member of SAG/AFTRA does not really guarantee any auditions (most of those are procured by an agent). However, once you book a film or commercial, the differences between a union contract and a non-union contract can be staggering (more money, residuals, hours, etc.).
You have to be offered a role in a union production. It's a bit easier for theater folks to break through since many auditions are held as open calls. If an Equity member does not show up for their audition, and there is not another union member waiting to take their spot, a non-union actor will usually be seen. For film/TV work, it's much more difficult to break through without having an agent or knowing a casting director.
Looking through websites and reading what photographers have to say can be overwhelming. Sometimes what you're reading on a site was not even written by the photographer (my website has been copied several times, word for word, by random weirdos on the internet). The most important thing is to look closely at the portfolio. Look for diversity. Does everyone look the same, or do the images seem like they represent individuals? Do they look comfortable? Are they really smiling?
Often actors will ask, "Why should I come to you?" You should come to me because you love my work. Try to avoid being swayed by sales pitches. Imagine a casting director, after having seen your performance, asking, "Why should I hire you?" They'll never do that. They know by seeing your work whether or not you're talented. Everything else is secondary. Choose a photographer because you think their work is good, not because they think they're good.